Farmer2Farmer by Farmer's Business Network
As I came home from F2F in the heart of the midwest held in Omaha, Nebraska, there was one key thing that I brought home with me.  There is one key idea that really resonated with me.  That one thing is that people have got to realize that agriculture is NOT the enemy.  The one thing that people can do is to listen to their farmer.  Farmers aren't growing something to kill the masses.  We are growing what the industry has been telling us will be the key to feeding the world for the last 30 years or so.
I'm not talking about agricultural companies like MonSatan or ADM or Bayer or Cargill.  I'm talking about the family farmer.  The people that built the backbone of the United States of America, the people that live a lifestyle and not just a job.  These people are the people of honesty, hard work, good Christian values, love for their country, love for their farm that in many cases is generations deep, love for their animals, and love for their family.
It's said that 70% of farm land in the United States will change hands within the next two decades.  Do you know where your food comes from?  Watch the amazing individuals in the agriculture industry to see how this plays out!
Farmers Are Going Social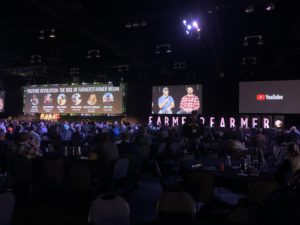 That's right, farmers are realizing that our story needs told and agvocating is a real term.  Advocating for agriculture has become a very important task that individual farmers are taking on with seriousness.
I'm so proud of my fellow farmers and the impact they're having educating the masses by utilizing social media platforms like YouTube, Snapchat, Facebook, Vine, TikTok and Instagram (not to leave anyone out of the social scene, but there are the biggies!).
You can find a couple videos on YouTube of my farm.  Subscribe to get updates and then Check out these other great farmers!
The Millennial Farmer is always a hit at our house.
Peterson Farm Bros post awesome farm parodies.
Welker Farms is always doing something new out in Montana!
Jay Hill has his shit together on social, check him out.
10th Generation Dairyman has it going on showing off his ladies.
Farmer Derek Klingenberg is taking on some cool stuff, check him out.
A lot is happening and changing in agriculture right now, stay up to date with great farmers across the nation who will be keeping you up to date with things like agriculture policy, food safety and security, fuel production and consumption and fiber usages.  This is so exciting for the United States and for Agriculture.
Meredith Bernard from North Carolina has a great blog, This Farm Wife, check her out….she has some cute merch too that I picked up at Farmer2Farmer!
Wait, what's Farmer2Farmer?
What a great experience Farmer2Farmer is for agricultural producers….a.k.a. farmers.
Farmer's Business Network has set out to change things for the better.  Co-Founders Charles and Amal are amazing people…I've met them both and they took their vision and ran with that vision.  And, oh have I been watching it grow!  Farmer's First took on a new meaning!  They're really trying hard to give the power back to the farmer and put an end to farmers buying everything retail, selling their product wholesale and going bust in the process!
How to get in this balanced agricultural vision and make it happen.
If you're a farmer and want to sign up, contact me!  I'd love to help you get to know the staff and help get you acquainted. There are some awesome webinars and other events coming up where you can meet up with some of the Farmer's Business Network staff and get to know all the benefits that FBN membershave and how FBN is changing the business for us farmers and really making a difference.
Just a quick breakdown for what Farmer's Business Network offers:
Price Transparency
Data Science
Crop Marketing

Cash Grain Management with the Virtual Elevator
Forward Pricing Contracts
Brokerage Services

Direct Buy – Inputs with the FBN Marketplace

F2F Genetics Network
Chemicals
Fertilizers
Other awesome stuff

Health Insurance
Finance
Community – A community of farmers to help out when you have questions, right in the FBN phone app!
Crop Insurance
Poet
Check out the Vital perspective by POET Poet was where this amazingness against big oil and flipping the perspective so what the world looks like with renewable fuels came front and center into my perspective just two days ago.  I've heard food, fuel, fiber so many times that I can't remember where I first heard what farmers produce.  Poet just pitched this vision to US farmers at F2F about what renewable fuels, sustainable foods and items produced by fibers, and not oil products like plastics, looks like.  What a picture they painted!  This is eco-friendly on steroids!  And, who better to pitch this idea to then the original and eternal conservationists and lovers of the land.