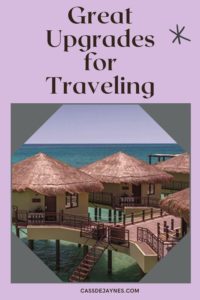 It's not so hard to get upgrades at low or no cost when you travel.  These kinds of perks are available through your travel agent.  Just ask if they have any bonuses they can offer!  Sometimes there are and sometimes there are not.  So, if they say no, they probably know.  But, allow them some time to check into it.
Room Upgrades: It's a great thing to show up at a beautiful resort and walk out on your balcony or patio and be able to hear the waves crashing and feel the ocean breeze.  Sometimes agencies have upgrade certificates they have to use.  It's worth an ask.  Sometimes Tour Operators offer free upgrades or low cost upgrades at booking or just before travel to allow more basic rooms to book last minute.  So, check with your travel agent closer to travel about the cost to upgrade.
Transfers: Don't get on a bus when you can ride in a nice car.  It's a great way to enhance your travel experience.  Who wants an hour tour of all the other resorts in the area when all they want is some lunch and a shower before heading to the beach to catch some sunshine before sunset?!
Excursions and Tours:  Pre-book your tours and excursions.  The good ones sell out ahead of time, so don't miss out on the great things to do.  As you agent for recommendations or a booking link so you can book your own while they oversee the details like transportation and "do you need lunch?".  The details make a huge difference in your travel experience.
Spa Services: These are also a great thing to pre-book so you get the spa services when you want them.  Most resorts and hotels allow services to be pre-booked at a discount!  Average is 10% off.
Travel Insurance:  This is more of a must have than an upgrade in my personal opinion.  I highly recommend some sort of insurance for your travel plans to protect your investment in your vacation.  Check with your credit card and see if you have travel insurance as a card benefit.  If not, insist that your travel agent explain the different policy options and costs and help you weigh your options.