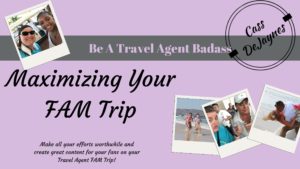 FAM trips are a great way to really learn your shit when it comes to being a good travel agent.  I love a good FAM trip, but not just for the education.  I love a good FAM trip for the networking opportunities, the educational opportunities, the beach time, and the amazing content I get while I'm there.
Networking Opportunities
The networking that happens at travel agent FAM trips is amazing.  So, don't forget to take some business cards with you!  Agent FAM trips give you some new colleagues, friends, and people to bounce ideas off of. For heaven's sake, don't order room service for your alone time meals.  Schedule some time with other agents and make a dinner reservation for 4+, and invite them to come along.  Reserve a Bali Bed on the beach OR invite someone to come along for a drink at the pool for some chill time.  Schedule a 1/2 day excursion and get in some adventure together.  And don't forget to goo check out the FREE nightly entertainment.
Not only are these travel agent FAM trips great opportunities to network with other agents.  They're a great opportunity to network with resort staff, BDMs, sales staff and event coordinators. This is very important to agents with high sales numbers.  You need these people to help you with hiccups and special requests when you're planning travel for others.
Educational Opportunities
FAM trips upped my sales game in the travel industry 10x!  You visit properties, find out the little nuances and sell the crap out of them.  You learn your target market for the resorts that allows you to really be a great agent.
Rest and Relaxation
Don't discount the few hours you have here and there to yourself on these trips.  For heaven's sake, do not spend your free time hiding out in your room.
head to the bar for a tequila tasting
catch a show
catch some rays on the beach
head to the spa for some R&R
chill in the pool
catch a yoga class
watch a sunrise or sunset
Amazing Content
You get one shot at this one…on site only.  Take all the photos and videos you can!  And, take them in a mix of portrait and landscape for different media channels.
take a video of your room BEFORE YOU MESS IT UP
food at meals
great beach pics
selfies with your new friends and the staff at the resort
pretty drink on the beach
go live from the beach, the restaurant, the bar and create some FOMO….it's sure to get right into people's social media feed and make them dream about your vacation.
Post some pricing for your exact trips when you get home to educate your raving superfans about what the trip you just took.  Let them know what that trip retails for and keep them up to date on any sales that pop up at your destination.
Overall, just live it up on a FAM trip and get the most out of your trip that you can.  Travel Agent FAM Trips are some of the best opportunities out there for travel agents, so take full advantage!