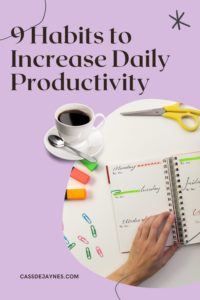 Start killing it every day with these 9 habits that will super charge your day and make you ultra productive!
#1 De-clutter Your Desk Daily
Some say that creativity arises from chaos, but a disorganized office is not helping you get stuff done. Even if you don't notice the disorder, it hurts your ability to focus.  Keep your work space clean and organized and get off to a good start on a daily basis.  I'll be honest, this is probably the one I struggle with the most!
According to a recent study in the Harvard Business Review, a clean desk helps you stick with a task more than one and half times longer!
#2 Carve Out 20%
No matter how crazy your days get, you need to carve out and ruthlessly protect 90 minutes.  This is roughly 20% of an 8-hour workday.  Use it for your important revenue-generation activities.  Think of this time as client time.  Schedule meetings, follow-up and follow through with prospective clients, send out an e-newsletter or go live on your facebook, Instagram and YouTube accounts to connect with your new raving superfans.
It's really easy to get caught up in the endless minutia of the day and put off the important tasks that bring in the cash. One-way to ensure you get 90-minutes of revenue-generating tasks done is to do them first thing in the morning before the day gets away from you.
#3 Work Less
I bet you didn't see this one coming! Think you can get more done by working through the night or starting really early? Output is proportionate to time worked…..up to 49 hours. Beyond 49 hours, productivity drops off  at a staggering rate, and people who worked 70 hours got the same amount done as those that worked 56 hours!  So, set your work hours the smart way and eliminate the long work days.
#4. Get 7-8 Hours Of Sleep Each Night

If you're thinking to yourself "that would be amazing but there's no way I can do that", then I encourage you to watch Marie Forleo's interview with Arianna Huffington while you eat lunch this week, and grab a copy of Arianna's book. It's an eye-opener!
Getting adequate sleep will supercharge your productivity by making you a better problem-solver.  Sleep helps your brain process information faster, keeps you sharp and focused, and it can counteract impulsive behavior (keep you grabbing an unhealthy afternoon snack).
If you can't clock 7-8 hours at night, then take a short power nap during the day. Even just 20 minutes can work magic on your productivity.
With an optimal sleep time of 7.76 hours per day for women.  For men optimally they shoot for a hair over 8 hours for men.  I use my sleep app on my iPhone to regulate my sleep.  Give it a try.
#5 Get Some Sun!
According to research, people who sit near a window and work have mental function and memory recall that is 10% to 25% better than those who don't!
If working near a window is not an option, get outside for a walk and some fresh air during the day.  Vitamin D, which our bodies produce with help from the sun, has been shown to help boost your immune system.  Even more reason to get outside and soak up some sunshine!
In the comments below, tell me, which of these 5 productivity boosters are you going to try this week?