Have You Ever Been To A Speakeasy?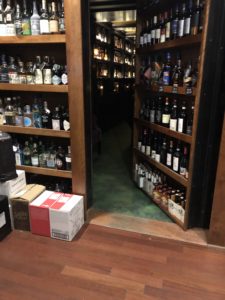 I can honestly say "Yes!" as of Thursday night!  And, not just a ya, I've been to one.  That's going to have to be an enthusiastic yes for me.  Who knew how amazing these little treasures are, but I'm glad that I do now!  I guess I had never even thought that speakeasies were a thing in existence.  Wait, speakeasies didn't just go away with prohibition!?  Apparently I thought they did and I was completely wrong!
I was in Omaha, Nebraska for the annual Farmer2Farmer conference.  I joined some new friends and colleagues to this wonderful little place in the heart of Omaha, right next to the Deco hotel.  This little treasure has so much class and wonder and hours passed by faster than I could have imagined.
I can't even count the number of flaming drinks on their menu!  The first hour was pure shock and awe that I was actually in this little slice of wonderful.  The next hour was actually nice and quiet and I got to know a new friend.  The hours that followed were purely drunken fun and rowdy farmers gone wild in the city!  Okay, so more people showed up that I may have shared the secret little place with.  But, it was pure amazing fun.  We laughed so much and had such a great time that we completely lost track of the hours that had just flew by and before we knew it, it was last call.
If you ever get a chance to check out a wonderful piece of American history, a speakeasy, I suggest you take it!
To get in, make sure to ask for the $1000 bottle of wine, The Wicked Rabbit, at The Looking Glass across from the Orpheum Theater right next to Hotel Deco.